GLASTONBURY '89
READ THE STORY HERE
BlimBros Glastonbury Festival1989
Blim Bros sound system set up in the Travellers Field outside Glastonbury Festival 1989.
Borrundi Drummers Glastonbury Festival 1989
The famous Drummers of Borrundi play out in Glastonbury Festival's Green Fileds after their gig on the Pyramid Stage.
The Perimeter Fence Glastonbury 1989.
The perimeter fence at Glastonbury Festival 1989 made from portable metal roadway supported upright.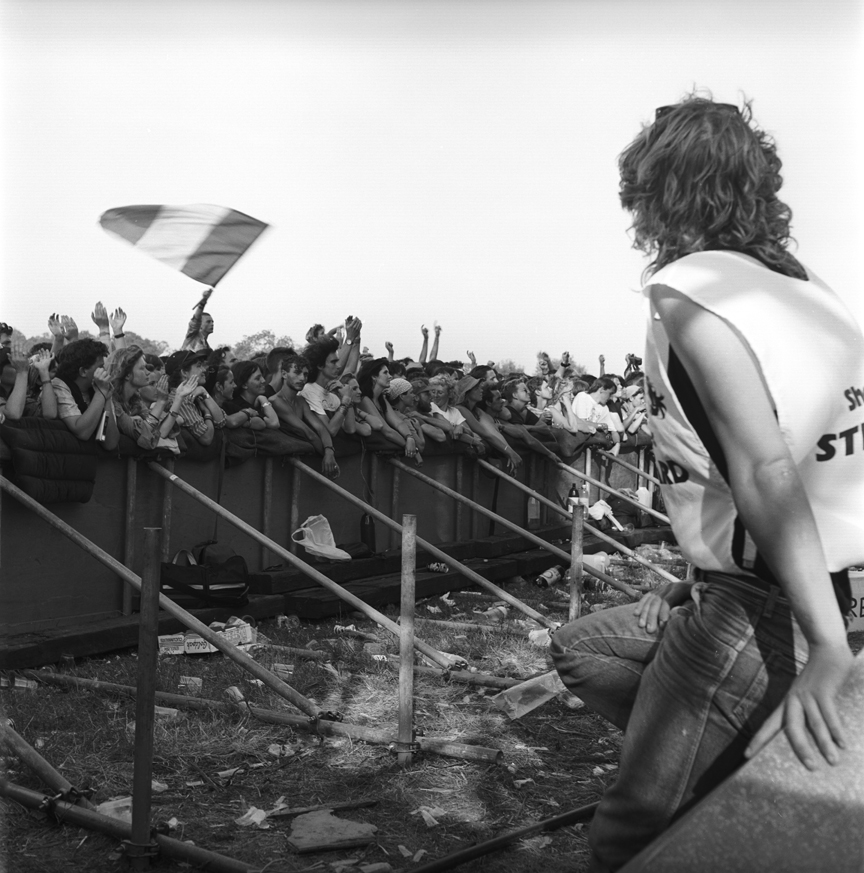 Pyramid Stage Crowd Glastonbury Festival 1989
Lone Steward watches the crowd in front of the Pyramid Stage at Glastonbury 1989.
Gate Two Glastonbury Festival 1989
Hank, Glastonbury Festival's site artist, enters Gate Two at Glastonbury Festival 1989 in his Transit van accompanied by his dog Jed, followed by a convoy of buses, trucks and living vehicles arriving for the event.
Michael & Jean Eavis Glastonbury Festival 1989
Michael Eavis and Jena Eavis relax in the back garden of Worthy Farm farmhouse during Glastonbury Festival 1989.
The Three Musketeers Glastonbury Festival 1989
Three traveller kids play one for all all for one in front of the showers during the build of Glastonbury 1989.
Nathan Convoy Field Glastonbury 1989
A young boy has his name written on his chest in biro detailing his name location and the registration of his parents vehicle, a brown Austin Allegro, in case he gets lost in the convoy field at Glastobury Festival 1989.
Access Denied Glastonbury Festival 1989
A hippie bus and a black London taxicab from the Peace Convoy waiting to be allowed into Glastonbury Festival 1989 with access blocked by a sleeping policeman being used by some site kids as a playground toy while they wait for their parents to sort their passes out.
Convoy Field Glastonbury Festival 1989
Two young men in the convoy field at Glastonbury 1989 hanging out together on and in a beautiful old army truck converted to live in while one is secretly rolling a joint inside.
Violin And Penny Whistle In The Green Fields Glastonbury Festival 1989
A group of musicians play violins and penny whistle in the Green Field at Glastonbury Festival 1989 in front of a geodesic dome and a bender in the sunshine while a young girl in a one piece swimsuit listens to the music made by her Mum who is naked in the warm weather and her friends who are not.